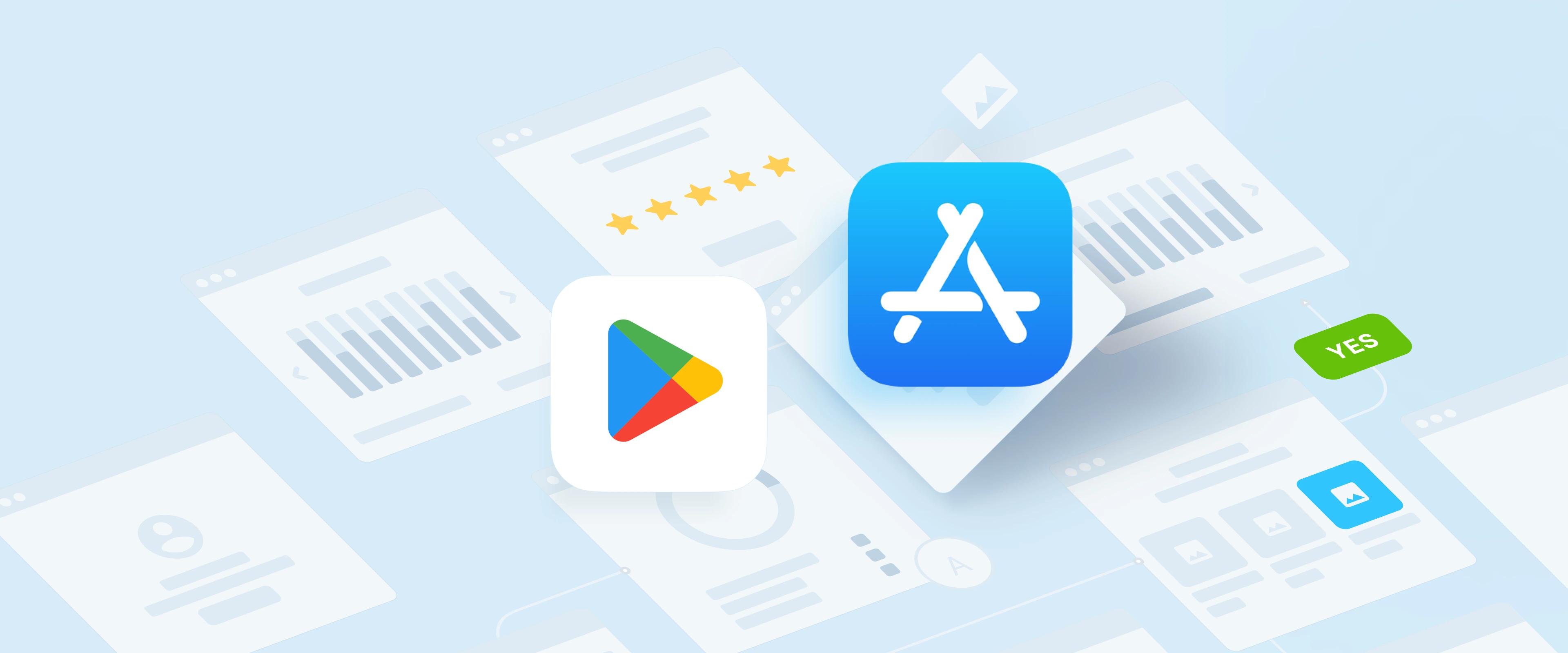 How we marketize & measure app events in Chili Labs
For the past couple of years, we were mostly focused on mobile app development, design, the hardcore technical stuff, and how to optimize our delivery process. When we got a client, we were just doing the technical delivery and support of an app, not thinking about how the client will marketize and promote the final product. We thought that we did the hardest part and the rest is not something that we should worry about, in the end, we are just a technical partner…
It all changed, once we started delivering our products - Crochet App, World Dominator Game, Bookla. Then we realized that the beautiful design and development is 10%-15% of success, and the most complex starts after the app is launched.
You have to inform people about the existence of the app, convince them to try it out, and make sure they are paying for the experience they get in the app. As it turned out it is not simple at all, and we've struggled (still are) to learn that ourselves, the hard way. There is no simple magic way or button that users should tap and your product is profitable. On the other hand, it is routine and tiring work with many factors that can affect it, but nothing is sure.
This is why, I've decided to share our experience and progress. Maybe it will save you some time and nerves on mobile product launch, which will help you to get profitable sooner.
Why do you need analytics for mobile apps?
To improve something, you need to know something. This is why you need to have an analytics and event tracking in your mobile app.

Crash Rates - Very important to track, as this shows the app's overall stability. If crashes or ANR events are happening regularly, users will put worse ratings for the app, as well as Google and Apple stores can demote your app in the search if you reach certain benchmarks.
In the example below, Google play indicates that there are issues with ANR's and Crash rate is too high for the apps latest release, if not fixed soon, it can cause following issues with an app:

App Store and Google play can demote your apps visibility
App can be filtered out to some users by device
Impacts the ratings for App Store and Google play
Important for UX and monetization
Both stores have their own benchmarks on how do they define "stable app", so this is really crucial information to follow and check constantly.
Retention - This is a combination of metrics, mainly to decide whether your customers are coming back to the app each day, or just trying it and not opening the app a second time. The higher this ratio is, the better monetization of a user there is.
Monetization - Data that is essential to your Unit economics, by knowing how much you earn on a customer (per session, or user lifetime) you can calculate how much you can spend on attracting similar customers so that it is still profitable.
User behavior- How often your users are opening an app, and how often do they trigger certain events and open screens? This will help you to understand whether the functionality you have created, is used or now. Can be achieved by creating custom events.
A/B tests- This is needed to validate UI/UX hypothesis for the functionality usage and visual assets. So that you split your traffic and installs by groups and check what performs better.
A way how to measure user activity:
Firebase Analytics- The most natural way, as there are many opportunities that Google Firebase provides. Push notifications, Crashlytics, A/B tests, App distribution, and many more, that comes out of the box.
Firebase out-of-the-box events to track:
User activity- amounts of users that visit your app. Recommended to be checked daily
Daily
Weekly
Monthly
App install adoption rate by version - is important to check for new crashes and see if user retention increases according to the new version installs.
App stability - So that you know that Google or Apple will not suspend your app, as well as app performs well. Recommended to be checked daily
Engagement time - this is very important for projects with advertisements. Basically, you can understand how much the user spends, so you can monetize this time. The example above it shows that users on average spend in the app 23 minutes and they have on average 2 sessions per user per month, with an average engagement of around 8 minutes.
What that gives us? That you have to monetize the user in the first 8 minutes, before he is gone, otherwise you will miss out on an opportunity to show them ads for the next 14 next days. (as on average 2 times a month app is opened)
User retention - This chart shows bathes of users who visit an app or website every single day. This is most important for the social, transactional, and marketplace apps, apps with a shorter subscription (weekly subscription model).

Events tracking - Is needed to check your custom events and Default Firebase events When you start to analyze your app, here are the most important events to check first:

First_open - this event shows when a user opens the app for the first time. This is a unique event, so if the same person Uninstalled/Installed the app, it will not affect the number. Logically, the more the better! With this event, you can apply a filter for the sources.

App_remove - Android-only event. Either when an application package is removed (uninstalled) from an Android device or when enough time has passed without the user's engagement so that Google thinks that the app is removed from the device.
Basically you want to keep your first_open ratio more than app_remove (x2), to maintain a good user base, making sure your product grows.
Monetization events
Subscription events - This happens when users are subscribed to your product, it does not distinguish whether it was a trial, canceled, or the money was already processed.
In-app purchases - logs when an in-app event happens (purchase with 30% on the digital asset on Google Play/ App Store)
Ad revenue - Shows the revenue from the Ads (Admob, CAS, any other ad revenue source that is connected)
Some events might be necessary for you, depending on the app monetization model. These events come from Google Play and Apple Store Connect however, I would not recommend checking it through the Firebase, as it doesn't know anything about the refunds, delayed payments, chargebacks, and processing. I would still recommend checking it via Apple Store Connect, or Google Play console directly, or through the payment platform you might be using (admob, stripe, revenuecat, etc.)
Custom events
Make every meaningful action a custom event, in order to take measurements and be able to improve it in the future. There are tow strategies to measure it - by action (button tap, flow starting, etc.) or screen measurement, where each screen has it's own unique ID and we can make sales funnels or track user journeys. With all of the above we can use this information to improve user experience and increase sales / conversions.
Funnels and improvements
Sales funnel creation guides users from discovery to becoming active users or making purchases. It enhances user experience, boosts revenue, and enables data-driven decision making. That means, this is something that you definitely should track and implement in your app.
Conclusions
Log and track everything
Make data-driven decisions
Do not be afraid to experiment
Iterate
Profit!
Some general recommendations on what to check and what data to follow: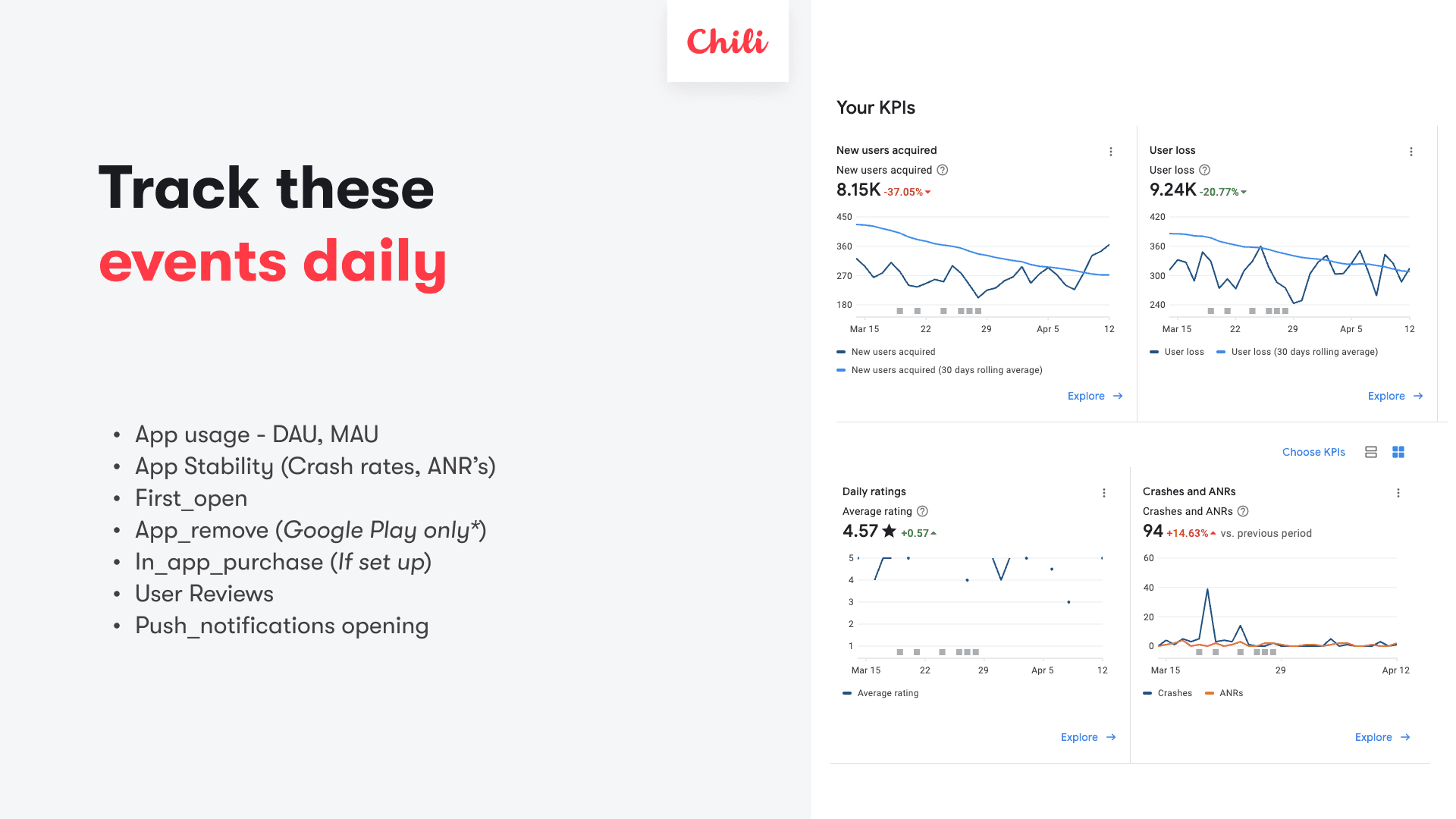 Also, if you do not know where to start or having some specific issue to resolve in the mobile app, drop us a line and let's chat!
Similar articles
Discover more with our related articles section. Stay informed about mobile app development, event organizing, and more.