Sora Stream
Cloud-based gaming subscription platform
Challenge
We were tasked to revolutionize a Cloud Gaming mobile experience solution for Sora Stream Android users that would allow them to play from anywhere in the world without having expensive hardware.
Different devices
The client had prior solutions for web and cloud solutions, but the mobile app and TV app expertise needed to be included. That's why Sora Stream onboarded the Chili Labs team into the project as mobile UI/UX design and Android development experts.
Cloud Gaming is the Future
According to the latest research by market pioneers, the size of cloud gaming globally reached USD 0.47 billion in 2020. It is expected that the cloud gaming market will reach 8 billion EUR worldwide in 2025.
Process
We partnered with Ludium Lab to build their first-ever mobile app for Android following the best Agile project approaches
Communication
In late 2020 we started communication with the main business stakeholders and design team to shape the next level of the user experience for cloud gaming mobile and TV apps.
Early User Testing
We care about user experience, so we did alpha and beta tests to properly understand if a user is satisfied with the solution and what changes should be made for a better experience.
Design
Ludium Lab design team had their vision and ideas for the overall app style. With our experience in mobile interface design and their vision in symbiosis, we have created an outstanding solution with the best user experience.
Development
Chili Labs took complete ownership of app development. Overall development took about half a year for Mobile, Tablet, and TV apps. Main technologies: Kotlin Coroutines, Retrofit, Firebase, Glide.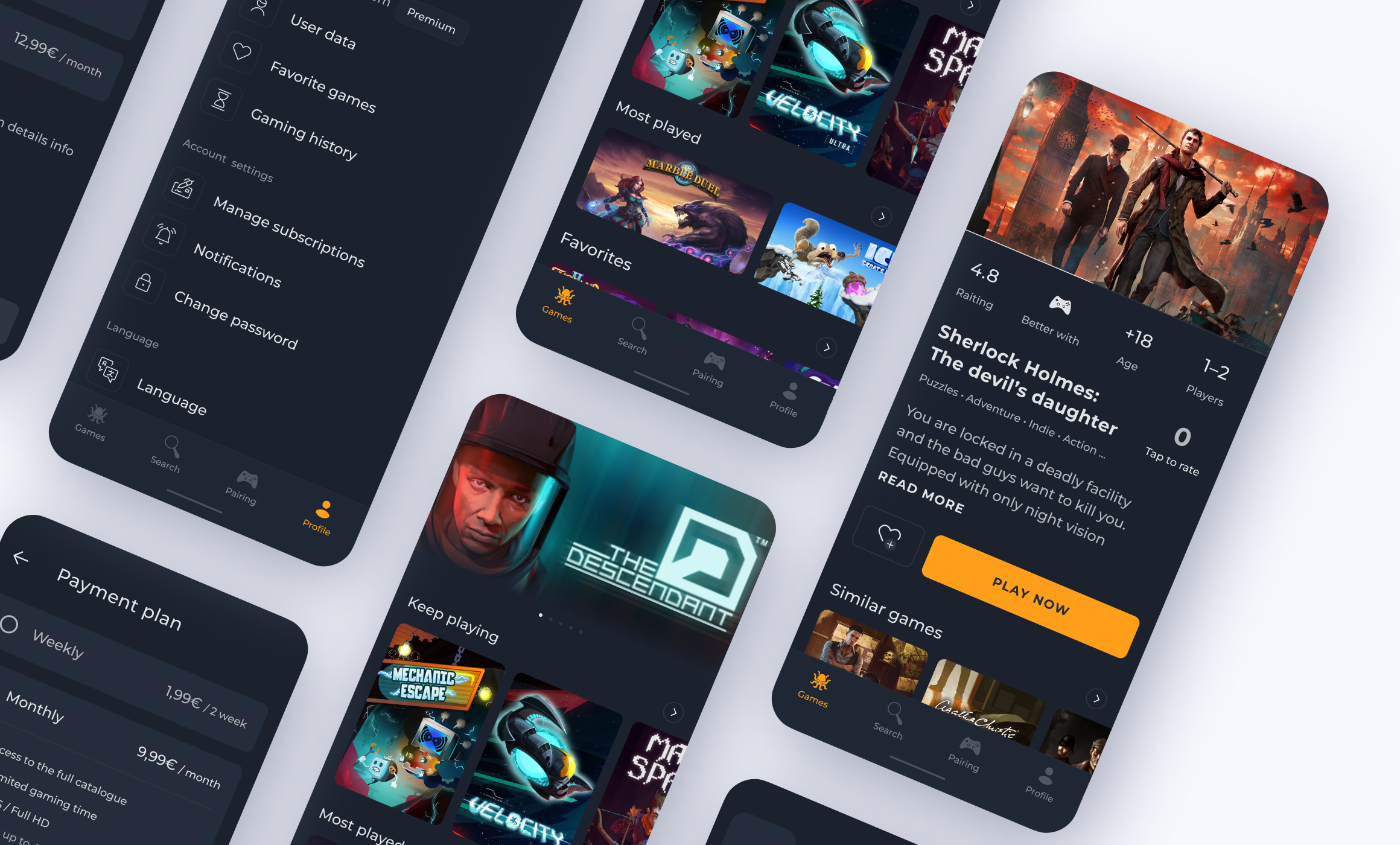 Result
150+ games from just one app
Games can be played in English, French, Italian, German and Spanish. 
Not gonna brag... but 60 FPS in Full HD.
Result
Premium features
Premium plan provides to create up to 4 different profiles
and to take advantage of the Parental Control.
Gaming history
Every user can track his own activity.
Parental Control
It allows families to set-up limits for kids 
to balance their gaming time.
Conclusion
We have created an app for the best user experience and design that eases users' life. The app is already in early access in the Google Play store. It is more visually appealing for casual gamers and families.
TV app is NextGen, too. It stands out in comparison to competitors. We included all modern UI/UX guidelines to make it as user-friendly as possible and ease users' life.